Products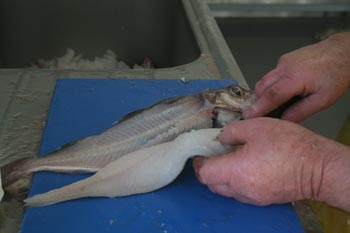 We can supply fish to suit your requirements including whole fish, headed and gutted, filleted or portioned.
We smoke our own fish on the premises, tended with care from start to finish to ensure the finest quality. We don't add dyes, just time! We smoke, haddock, cod, mackerel and herring salmon to name a few. If it swims Kevin will smoke it for you! Just contact us to discuss your requirements.
Cooke Acquaculture provide a regular supply of beautiful fresh Orkney farmed salmon to a high standard. You must try our smoked salmon, yummy!
Scallops are supplied by local boats and local divers. Caught in the crystal clear waters around Orkney you can be sure of their quality.
This is our current range of quality products, Fish prices change constantly so please ring or email for latest price and availability.
Fresh Fish Range -
Haddock Fillet Skin On
Haddock Fillet Skin Off
Haddock Whole Boiling
Haddock Fillet Smoked Skin On
Haddock Fillet Smoked Skin Off
Haddock Fillet Salt
Cod Fillet Skin On
Cod Fillet Skin Off
Cod Fillet Smoked Skin On
Cod Fillet Smoked Skin Off
Cod Fillet Salt
Plaice Fillet
Lemon Sole Fillet
Skate Skinned
Squid
Monk Tail
Megrim Fillet
Kipper Fillets
Sea Bass Fillets
Tuna Steaks
Mussels
Halibut Fillet
Orkney Salmon
Hot Smoked Salmon
Cold Smoked Salmon
Hot Smoked Chilli Salmon
Hot Smoked Maple Salmon
Tusk
Scallops
Herring Whole
Herring Fillets
Herring Salt
Oatmeal Herring Fillets
Mackerel Fillets
Mackerel Smoked
Mackerel Peppered Smoked
Mackerel Mustard Smoked
Mackeral Sweet Chilli Smoked
Ling Fillet Salt
Cooked Cod or Haddock Roes
Lemon and Dill Rollmpos
Orange and Cider Rollmops
Frozen Products -
Smoked Fishcakes
Plain Fishcakes
Salmon and Spring Onion Fishcakes
Smoked Fish Pie (Large and Small)
Plain Fish Pies (Large and Small)
Haddock Fillet Breaded

Cooked Products -
We offer a small range of cooked products through the local shops in Westray and of course at "JACKS"
We also smoke Wilsons of Westray Cannonball Cheese which can be bought in wholes or halves."
Wilsons of Westray diary farm that produces delicious fresh cheese. They are located opposite Noltland Castle.