Recipes for October
Scallop and Vegetable Medley in Paprika Sauce
(serves 4 as a main course)
Wow, this is fabulous! Scallops with sweet succulence form the mainstay of this unashamedly fancy dish. It takes time to make, but much of the preparation can be done earlier in the day. Be a hero (or heroine) and make it.
For the stock
1small onion, chopped
1 small carrot, chopped
1 bouquet garni
juice of 1 lime
1 tsp sugar
a few black peppercorns
12 fl oz (350ml) water
For the finished dish
10 small potatoes, peeled
salt
2 oz (50g) butter (not margarine)
1 red pepper, pith and seeds removed, cut into 1cm wide strips and then each strip cut into 3 diamond shapes
1 small fennel bulb, chopped
1 rounded tsp paprika (not smoked)
freshly ground black pepper
2 oz (50g) cashew nuts
3 spring onions, sliced
4 fl oz (120ml) double cream
1lb 4oz (560g) shelled scallops with their roes, halved if large
flat leaf parsley
Firstly put all the stock ingredients into a saucepan, cover and cook for 30 minutes. Strain and set aside.
Next cut each potato in half and, using a sharp knife, form each into a barrel shape. Try to make al 20 barrels about the same size. Boil them in lightly salted water until tender (about 7 minutes). Strain, dry carefully and set aside.
In a large sauté or frying pan, melt 1 oz (25g) of the butter. Add the red pepper and fennel and cook gently uncovered, for 15 minutes, turning occasionally.
Add the paprika for the last minute and season with black pepper and a little salt. Mix in the nuts and allow to cool. All the above can be done earlier in the day.
When you are ready to eat, pour 7 fl oz (200ml) of the stock into the pan. Allow to boil, uncovered, until only about a third of the liquid remains. Then add the spring onions, cream, scallops and the potato barrels.
Heat through and cook gently for a few minute until the sauce thickens. Cube the remaining butter and add to the pan. Stir until melted and evenly incorporated.
Serve immediately in large soup plates, garnished with parsley.
courtesy Alan Bichan food columnist for the Orcadian, from his book "A Year in an Orkney Kitchen".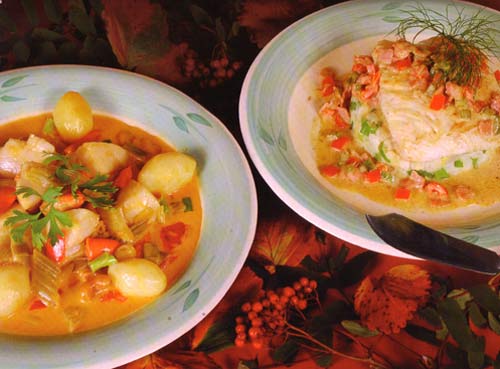 left: scallop and vegetable medley, right: halibut nicolson
Halibut Nicholson
(serves 2)
Robustly flavoured halibut, mashed potatoes with onions and yoghurt, and a sauce to die for. Be careful not to overcook the fish otherwise it will dry out..
1 medium carrot sliced
½ medium onion chopped
1 bay leaf
10 peppercorns
1 tbsp lemon juice
7 fl oz (200ml) water
1 oz (25g) butter
2 x 6oz (175g) halibut fillets
2 fairly thick rashers bacon, diced
1 small stalk celery, finely diced
½small red pepper, finely diced
3 fl oz (75ml) double cream
salt and pepper
12 oz (340g) hot, mashed potatoes
1 tbsp natural yoghurt
3 spring onions, chopped
fresh herbs, to garnish
First make an easy stock by putting the carrot, onion, bay leaf, peppercorns, lemons juice and water into a saucepan. Cover and cook for 10 minutes. Strain and discard the vegetables etc. You should be left with about 4 fl oz (100ml) of stock.
Melt the butter in a frying pan and cook the halibut, turning once. Do not overcook. Remove any skin and keep warm in a low oven.
Now fry the bacon and celery for 1-2 minutes, adding the red pepper for the last few moments. Pour over the stock and reduce by half. Add the cream and allow to bubble until slightly thickened. Season lightly with pepper only.
Season the potatoes and stir in the yoghurt and spring onions. Divide between the middle of of two heated plates an form into a circle. Top with the fish and pour over and around the sauce. Garnish and serve.
courtesy Alan Bichan food columnist for the Orcadian, from his book "A Year in an Orkney Kitchen".